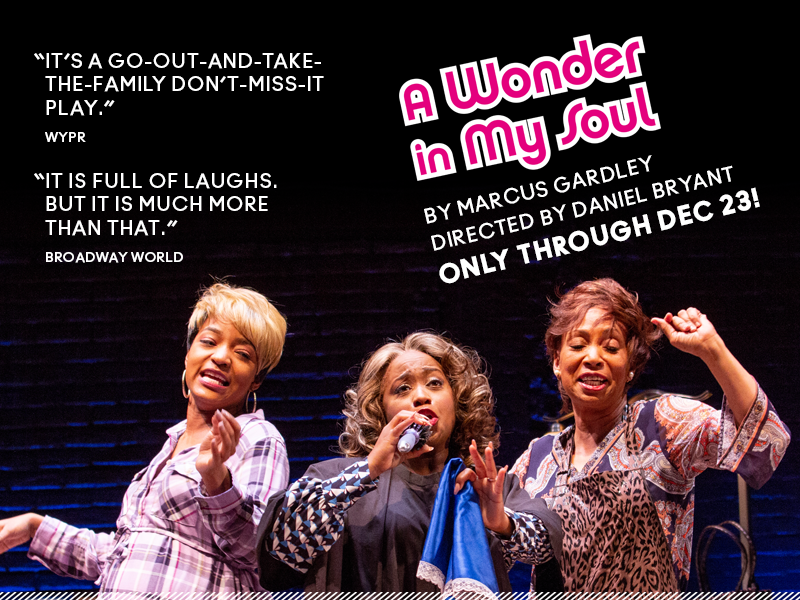 A STORY OF FRIENDSHIP, FAMILY, AND THE HEART OF A BALTIMORE NEIGHBORHOOD
In a Baltimore beauty shop, two longtime co-owners and best friends grapple with a major decision: remain as the anchor of their beloved neighborhoo, or relocate under the pressures of gentrification and crime? In dialogue that resonates with everyday poetry and underscored with music both profound and stirring, A Wonder in My Soul looks at the evolution of one family, the history of Baltimore and a whole community.
Content Advisory: This story of friendship and Baltimore neighborhoods is fitting for audiences in middle school and beyond.
Approximate runtime is 2 hours and 15 minutes, including one intermission.
A Wonder in My Soul Earned More Rave Reviews!
"From the opening lines to the closing bows, you get an evening of theater that is one for the record books." —MD Theatre Guide

"A really powerful play." —WYPR

"Music, friendships, and lively performances make this an amazing theater experience." —CultureSeen4U

"A drama with searing wit and exquisite insight." —MD Theatre Guide
BEST AVAILABILITY ON THESE DATES:
Fri, Dec 21 at 8pm
Sat, Dec 22 at 2pm
This play must close this Sunday, December 23. Don't miss it! The Box Office is open noon–6pm every day except Mondays, Christmas Eve, and Christmas Day.
WHERE: Baltimore Center Stage, 700 North Calvert Street, Baltimore
BUY TICKETS