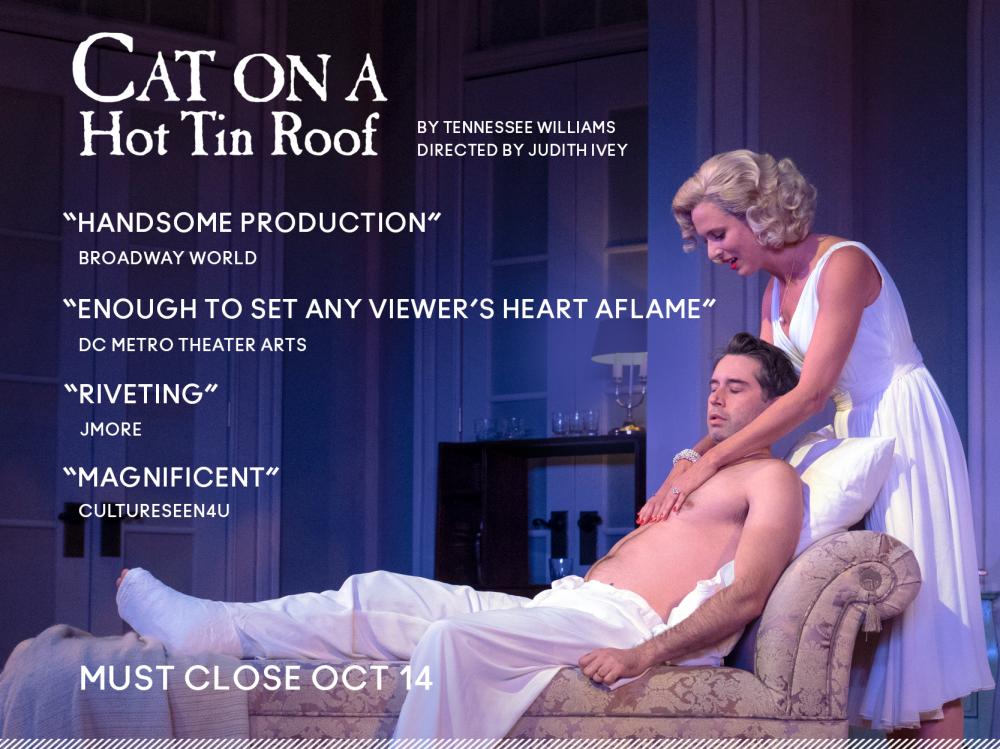 WHEN: through October 14
WHERE: Baltimore Center Stage, 700 North Calvert Street, Baltimore
TICKETS
You have just 7 chances left to catch Cat on a Hot Tin Roof!
PRAISE FROM THE CRITICS:
"Extraordinary portrayals" —WYPR
"One of the iconic plays of American theater… this production is very good, well crafted, acted and staged." –WCBM
"From the fertile mind of Judith Ivey, a two-time Tony Award-winning actress making an equally tony directorial debut at Center Stage…. Under her guidance, this ensemble earns the same accolade Walter Kerr gave to Elia Kazan's original Broadway troupe, 'You'll believe every word that's unspoken.'" —DC Metro Theater Arts
"Cat is such a lush Southern gothic tragedy, almost a melodrama, that you find yourself laughing at the god-awful things that tumble out of the characters' mouths (secretly wish you had the guts to be so luridly crass), just as much as you gasp at their beastly behavior." —DC Theatre Scene
"[Director Judith] Ivey gives us the Maggie and Brick we want to believe in... Ivey has helmed a really admirable production." –Broadway World
"The performances are magnificent. This is one of the best plays I've seen at Center Stage or anywhere." —CultureSeen4u
PRAISE FROM OUR AUDIENCES:
"Excellent... Amazing!"
"Breathtakingly good."
"5 Stars. Center Stage does everything great."
"This is an awesome production of Cat on a Hot Tin Roof."
"I highly recommend everyone see this show."
"This show is fantastic. Don't miss it."
"Probably the best play I've ever seen."
"As a Southerner I've never seen a better production."