A Classical, Jazz & World Music Concert Venue
409 N Charles Street
Baltimore MD 21201
www.andiemusiklive.com
Buy tickets online at www.instantseats.com
Or by calling us as (410) 385-2638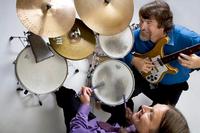 Brubeck Brothers Band
WHEN: Thursday 03/29 - 8 & 9:30 pm
TICKETS: $25 advance /$28 door /$10 full time students with ID/Seniors: $22 advance /$25 door
Get Tickets
Chris and Dan Brubeck have been making music together practically all their lives. Drummer Dan and bassist, trombonist, and composer Chris cut their first record together in 1966—nearly a half century ago. They've subsequently played a variety of styles in a number of different groups, as well as with their father, jazz giant Dave Brubeck, and with their own Brubeck Brothers Band.
Although the band's style is rooted in " straight-ahead" jazz, their concerts reveal an inherent ability to explore and play odd time signatures while naturally integrating the influences of funk, blues and world music.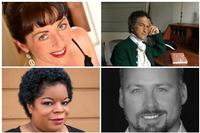 loveSICK: The Relapse
WHEN: Friday 03/30 - 8 pm
TICKETS: $15 in advance/$18 at door/$10 full-time student with ID
Get Tickets
Dyana Neal has performed in plays, operas and cabarets throughout the Baltimore-Washington area.
Steven Lampredi, actor, director and singer of risque' sea songs, is persuaded now and then to pose as a cabaret singer.
Kay-Megan Washington is an actor and singer based in Baltimore. When not performing, she is director of a conflict resolution program for the MD Department of Agriculture.
Pianist Janina O'Brien seems to thrive on every kind of music.
Rob Wall sang in the Naval Academy Men's Glee Club, served as Naval Academy parade announcer, and was featured in musical theater roles.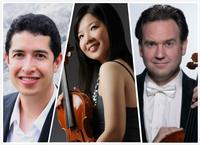 Yao-Honigberg-Yungen Trio
WHEN: Saturday 03/31 - 2 pm
TICKETS: $15 advance /$18 door /$10 full time students with ID
Get Tickets
Shu-Ting Yao, violin
Steven Honigberg, cello
Joseph Yungen, piano
Performing:
Franz Schubert (1797-1828): Piano Trio No.1 in B-Flat Major, D.898
Felix Mendelssohn (1809-1847): Piano Trio No.2 in c-minor, Op.66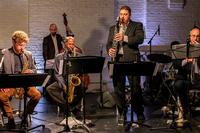 Todd Marcus Jazz Orchestra
WHEN: Saturday 03/31 - 8 & 9:30 pm
TICKETS: $10 - $20 | $1 Fees
Get Tickets
Todd Marcus, bass clarinet
Greg Tardy, tenor sax
Sharel Cassity, flute & alto sax
Russell Kirk, alto sax
Freddie Hendrix, trumpet
Alan Ferber, trombone
Xavier Davis, piano
Jeff Reed, bass
Eric Kennedy, drums
A nonet of six horns (bass clarinet, alto saxophone/flute, alto saxophone, tenor saxophone, trumpet, trombone), piano, bass, drums and optional vocalist with musicians from Baltimore, New York, Washington, DC, Philadelphia, and Tennessee. The group's instrumentation, compositions, and arrangements create a rich sound with music that incorporates straight-ahead jazz with other influences from classical to Middle-Eastern themes. The music explores a range of moods while swinging hard and showcasing the diverse soloists in the ensemble.