A Classical, Jazz & World Music Concert Venue
409 N Charles Street
Baltimore MD 21201
www.andiemusiklive.com
Buy tickets online at www.instantseats.com
Or by calling us as (410) 385-2638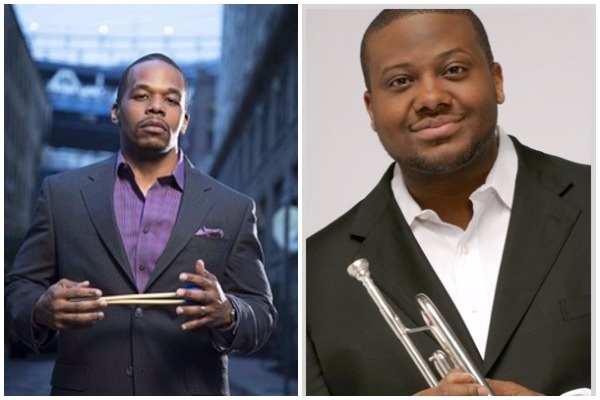 Warren Wolf meets Sean Jones
WHEN: Saturday Dec 16 - 8 & 9:30 pm
TICKETS: $22 in advance/$25 at door/$10 full-time students with ID
Get Tickets
Warren Wolf, vibes
Sean Jones, trumpet
Warren Wolf is a multi-instrumentalist from Baltimore. From the young age of three, Warren has been trained on the Vibraphone/Marimba, Drums, and Piano. Under the guidance of his father Warren Wolf Sr., Warren has a deep background in all genres of music.
Warren attended the Peabody Preparatory for eight years studying classical music with former Baltimore Symphony Orchestra member Leo LePage. During his high school years at the Baltimore School for the Arts, he studied with current Baltimore Symphony Orchestra member John Locke. He then enrolled at Berklee College of Music where he studied with Carribean Jazz Vibraphonists Dave Samuels and Ed Saindon.
After two years of teaching at Berklee, Warren headed back to Baltimore where he landed the piano duties performing in the Rachael Price Group. Recording and touring with Rachael, Warren has had the opportunity to tour throughout the entire Unites States of America. Warren is currently the drummer of choice for Alto Saxophonist Tia Fuller, who tours with internationally renowned pop star Beyonce Knowles. Warren is also a member of the Donal Fox Group which includes bassist John Lockwood and drummers Dafnis Preito and Terri Lyne Carrington. Also, Warren tour and perform with Bobby Watson's "Live and Learn" Sextet, Karriem Riggins "Virtuoso Experience" and Christian McBride & "Inside Straight". With these three groups Warren has traveled the world. Warren has performed worldwide.
Warren has several recordings as a leader. He recently signed to the Mack Ave recording label.
Visit Website
Music and spirituality have always been fully intertwined in the artistic vision of trumpeter, composer, educator and activist Sean Jones. After receiving his Master's Degree from Rutgers University, Sean had a 6-month stint with the Lincoln Center Jazz Orchestra. This marked the beginning of a relationship with Wynton Marsalis, whose personal work ethic and ability to break barriers had already made a significant impact on the emerging artist. Wynton offered Sean a permanent position as lead trumpeter and Jones remained there until 2010.
Sean was prominently featured with a number of artists, recording and/or performing with many major figures. He has a longtime relationship with Mack Avenue Records, for whom he has just released his seventh recording: im.pro.vise = never before seen.
Heavily involved in education, Sean has recently joined the Berklee College of Music's distinguished faculty as the Chair of the Brass Department. He also serves as Artistic Director of both the Pittsburgh and Cleveland Jazz Orchestras and is working toward organizing the various Jazz orchestras all over the country. Sean is current Artist-in-Residence at San Francisco Performances and is a member of The SF JAZZ Collective.
Clearly a passionately committed, heavily focused and deeply spiritual man, Sean relies upon his serious study of philosophy – especially that of 13th century theologian and mystic Meister Eckhardt; and Don Miguel Ruiz, whose vision is drawn from the ancient wisdom of the Toltec native people of Southern Mexico – to fuel the pursuit of his expansive and generous vision. www.sean-jones.com
---
Limited Time 2-for-1 Discount on Musicophilia Music Passes
As a special incentive, we are offering a limited time 2-for-1 deal on Musicophilia Music Passes!!
Buy a pass for yourself, and get one to gift. Or, give both as gifts.
Musicophilia Concert Passes are offered at five levels:
$50 one concert ticket + one in-stock CD
$100 one ticket to six concerts in one month
$200: one ticket to an unlimited number of concerts for one month
$500: one ticket to an unlimited number of concerts for three months
$1000: one ticket to an unlimited number of concerts for six months
$2000: one ticket to an unlimited number of concerts for one year
The 2-for-1 offer ends on January 31, 2018.
Click here to purchase:
Musicophilia Concert Pass