A Classical, Jazz & World Music Concert Venue
409 N Charles Street
Baltimore MD 21201
www.andiemusiklive.com
Buy tickets online at www.instantseats.com
Or by calling us as (410) 385-2638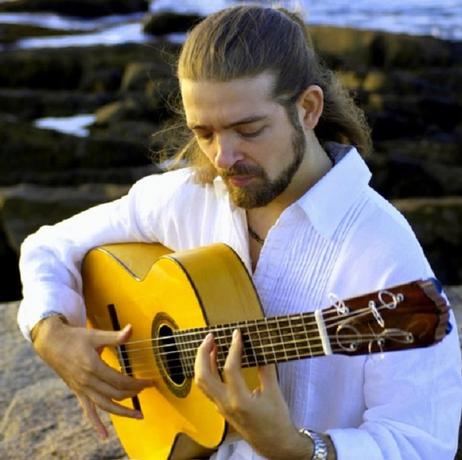 Adventures in American Flamenco: An Evening with Juanito Pascual
WHEN: Thursday, Oct. 19 - 8 & 9:30 pm
TICKETS: $20 in advance/$23 at door/$10 full-time student with ID
His last two appearances sold out -- don't miss this chance!
Get Tickets
"A truly astonishing musician" - Daniel Shaw, Aspen Public Radio

"Fearsome Acoustic Guitar Chops" - John Garrelick, The Boston Phoenix

"One of the hottest flamenco guitarists to emerge in recent years." - NPR's "Here and Now"
Guitarist Juanito Pascual has created a singular niche in the music world. His programs incorporate a masterful blend of traditional and contemporary flamenco with sounds ranging from rock and jazz to classical and Sephardic music.
Born in Minneapolis, his early passion for American popular styles and classical music was followed by an immersion in Flamenco starting in his mid teens.
Pascual's sensitivity, virtuosity, intriguing arrangements and compositions have earned him high praise in the flamenco world. He has won critical acclaim for recordings, live performances and film work. Now based in California, the world-traveled guitarist was hailed by the Boston Globe as "a rising star of the Spanish Guitar," while the San Diego County News recently praised his "sheer relentless inventiveness."
Pascual can be heard in his 2003 album Cosas en Comun, the 2009 CD Language of the Heart, and on the soundtracks of a film and mini-series about the life of Pope Francis (the Netflix version is titled Call Me Francis.) A respected workshop leader and teacher, he is the author of the 2011 book, The Total Flamenco Guitarist published by Alfred Press. (After being coached by Pascual through a hand injury, guitarist Julian Lange calls his teacher a "brilliant flamenco guitarist.") He is a Jazz Beyond Borders touring artist.
In his solo performances, Pascual draws from a repertoire of traditional and original flamenco compositions and includes unique arrangements of songs by George Harrison, Bob Dylan, Stevie Wonder and others. No two concerts are quite the same. Rhythm, passion, spontaneity and joy are a few words to describe an evening of music with Juanito Pascual.