A Classical, Jazz & World Music Concert Venue
409 N Charles Street
Baltimore MD 21201
www.andiemusiklive.com
Buy tickets online at www.instantseats.com
Or by calling us as (410) 385-2638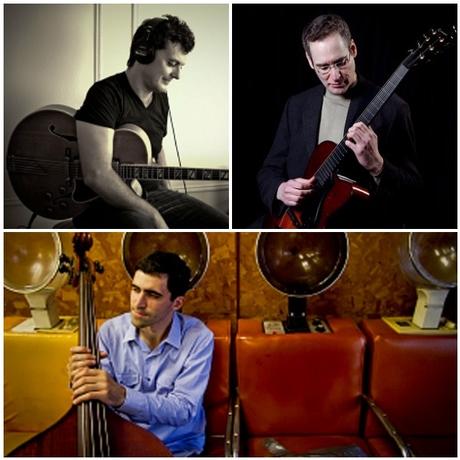 No Strings Attached: Peter Mazza/Steve Herberman/Blake Meister Trio
WHEN: Wednesday, July 19 - 8:30 pm
TICKETS: $15 in advance/$18 at door/$10 full-time student with ID
"It's one thing to perform compositions that go through time modulations, meter changes, and reharmonizations; but, to do those things and make it seem effortless and of the highest musicality is a rarity..." - Just Jazz Guitar Magazine
"A guitarist with an instantly recognizable voice, his original compositions are joyous whirlwinds of thematic expression, rich with emotion and personality. Both vulnerable and commanding, he puts it all on the line and goes for it, the experience is thrilling..." - Jazz Inside Magazine
A meeting of three jazz string players from three cities -- a collaboration featuring NYC guitarist Peter Mazza, DC guitarist Steve Herberman, and Baltimore Upright bassist Blake Meister.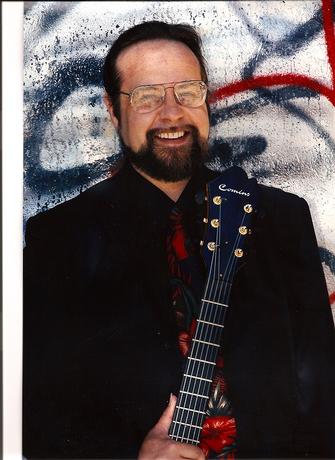 NYC Guitarist Justin Lees
WHEN: Thursday, July 20 - 8 pm
TICKETS: $15 in advance/$18 at door/$10 full-time student with ID
Justin Lees started playing guitar professionally in the late 70's and studied guitar with several local prominent guitarists in Washington D.C., including Rick Whitehead, Paul Bollenbach (local to DC at the time), Bill Biesecker, Danny Gatton, and guitarists not so local (including Herb Ellis and Emily Remler).
Although stylistically diverse, Justin's main focus is on a straight ahead approach to jazz steeped in the fifties tradition of Charlie Parker and Dizzy Gillespie and rooted in the styles of Charlie Christian and T Bone Walker. The feeling of Swing and the Blues is a constant. While in Washington D.C., he worked as a freelance musician with a variety of people that have included Ron Holloway, Dick Morgan, Keeter Betts, Cindy Cain and others. At that time, you could hear him every Monday night with his own trio at the One Step Down, Washington D.C.'s premier Jazz club, until it's closing. He performed at Blues Alley, 219 Club, and Constitution Hall plus.
He has studied seriously with Howard Alden and Michele Ramo, as well as Dr. Asher Zlotnik. Past performances include opening for Nina Simone as a member of the Ron Holloway Group at Constitution Hall. In addition to his own solo, duo, and trio projects,
current projects include being the guitarist for the John Colianni Quintet, since its formation in 2006 as well as being the guitarist for John's NEWLY FORMED JAZZ ORCHESTRA. John Colianni was Les Paul's most recent pianist until his passing, and was with Mel Torme for 4 years, and also played for Lionel Hampton at the tender age of 19.
Other highlights from Justin's playing history (with John Colianni) include touring England in March of 2007 as well as playing for the Tri-State Jazz Society early in 2009. He also recorded on John Colianni's record Johnny Chops (a 2008 release) and on On Target, a follow-up release as well as his last CD After Hours. Additionally, He has plays with the Gypsy Jazz Phenomenon Franglais. He performed with his own Trio at The Uptown Lounge and Restaurant on Manhattan on Tuesdays for a year long residency Sept of 2015-2016 as well as at The Garage in NYC for more than 10 years until its closing. His trio also performs at, Cleopatra's Needle ans The Bar Next Door located on Manhattan.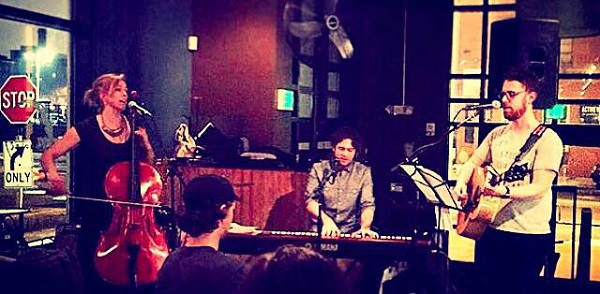 29 & Georgia
WHEN: Friday, July 21 - 8 pm
TICKETS: $10 in advance/$13 at door
Get Tickets
Lush four-part harmonies, indelible melodies, and honest, thoughtful lyrics are what you'll get at a 29 & Georgia show. Made up of piano, acoustic guitar and two cellos, the band brings together its members' diverse musical backgrounds to create a unique sound that is both progressive and folky. 29 & Georgia's music has been featured on the shows The Fosters and Eastbound and Down.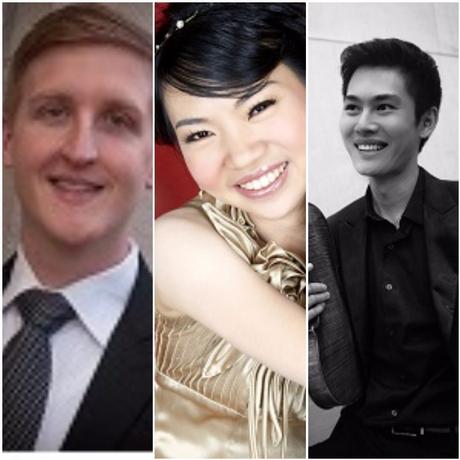 Ann Street Trio
WHEN: Saturday, July 22 - 2 pm
TICKETS: $12 advance/$15 door/$8 student and military with ID
Get Tickets
Three of Baltimore's finest chamber musicians have founded a new trio dedicated to performing classical music in intimate settings. Please join them for their inaugural concert at An die Musik Live in a performance of works by W.A. Mozart, Gordon Jacob, and Johannes Brahms.
Erik Franklin, clarinet
Hui-Chuan Chen, piano
Yang Guo, viola
Erik Franklin, clarinet
Staff Sergeant Erik Franklin is a member of the U.S. Army Field Band. Prior to joining the Field Band in March 2016, Erik held positions with the Terre Haute Symphony Orchestra and the Columbus Indiana Philharmonic. He is the founder of the Novacane Quartet, an award-winning group discovering new avenues for art music in America. Every summer, Erik hosts the Indiana Clarinet Experience—a weeklong music camp in Brown County, Indiana.
A South Carolina native, Erik earned a BM in clarinet from Furman University and MM in clarinet from Indiana University's Jacobs School of Music. He is currently pursuing a DM in clarinet from the Jacobs School, studying with Howard Klug.
Erik lives in Baltimore with his husband. When not traveling the country with the Field Band or the Novacane Quartet, he enjoys exploring museums and monuments in our nation's capital.
Yang Guo, viola
Yang Guo was born and raised in Handan, China. He received his Artist Diploma from Indiana University under tutelage of Atar Arad, and Master of Music degree from the Peabody Conservatory, where he studied with Li-Kuo Chang and Victoria Chiang.
Mostly recently, he has performed with the Baltimore Symphony and Baltimore Chamber Orchestra. He is also a fellowship recipient and has participated in the Aspen Music Festival, Music Academy of the West, Banff Music Festival, Sejong Music Festival among others. As the winner of the Indiana University concerto competition in 2014, he performed the Bartok Viola Concerto with IU Philharmonic Orchestra and conductor Carl St. Clair.
Guo is joining the San Antonio Symphony this fall.
Hui-Chuan Chen, piano
A native of Taiwan, pianist Hui-Chuan Chen began piano lessons at age four and made her debut performance at six. As a successful soloist, chamber musician, collaborative pianist and educator, Hui-Chuan has traveled and performed widely throughout the United States, Europe, and Asia.
She has won numerous prizes at competitions including the Wonderlic Piano Competition in Baltimore, Concerto Competition of International Music Festival in Siena, Italy, Kaohsiung City Competition, Kawai Piano Competition, and the University Piano Concerto Competition of NTNU, Taiwan.
As a chamber musician, she has performed at the Kennedy Center, Carnegie Hall, and the Supreme Court of the United States. She has worked with accomplished musicians such as cellist Amit Peled and Flutist Demarre McGill.
Hui-Chuan holds a Doctor of Musical Arts degree from the Peabody Conservatory of Johns Hopkins University where she is also a faculty member in the preparatory division. She also serves on the faculty of the University of Maryland Baltimore City, Washington Conservatory of Music, and the Heifetz International Music Festival in Virginia.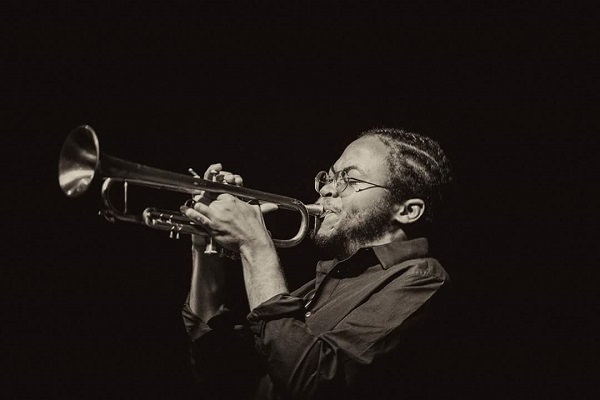 New Perspectives Quintet
WHEN: Saturday, July 22 - 8 pm
TICKETS: $13 in advance/$16 at door/$10 full-time students with ID
Get Tickets
Brandon Woody, Trumpet
Isaiah Lewis Collier - Saxophone
James Francies - Piano
Tarus Mateen - Bass
Kweku Sumbry - Drums
Brandon attends the Brubeck Institute, a full scholarship Jazz program in California that accepts only 5 people every 1-3 years. Next year, he will attend the Manhattan School of Music on a fullride.
Brandon has won numerous competitions: Berklee Jazz Workshop 2014, Young Arts in 2015 and 2016, BSA Concerto competition in 2016, Peabody concerto competition in 2016, Shenendoah Jazz Soloists Competition in 2016. Has studied privately with Ambrose Akinmusire, Sean Jones, Tiger Okoshi, Andrew Balio, Dontae Winslow.
Brandon has performed at venues such as Jazz at Lincoln Center Appel Room, Lincoln Center Atrium, The Meyerhoff, The Lyric Opera House, The Kimmel Center, Marthas Vineyard Jazz Festival, Monterey Jazz Festival, Watts Tower Jazz Fest LA, Davis Jazz Festival, An die Musik, Twins Jazz Club, Wally's, Dizzys Jazz Club Coca Cola. Brandon recently opened up for the Newport Jazz Festival, and performed in the Danilo Perez Band.
Upendo means love in Swahili.
Sean K. Preston & Billy Kemp: Roots Cafe Singer-Songwriter Series
WHEN: Sunday, July 23 - 5 pm
TICKETS: $10 in advance/$13 at door/$10 full-time students with ID
Get Tickets
Performing their own songs in the round with singing host Geoffrey Himes
Billy Kemp was born and raised in Baltimore, where he led the area's best country-rock band of the '70s and '80s (the Paradise Pickers) and its best rock'n'roll band of the '80s and '90s (the Paradise Rockers). The singer-guitarist has played with Tommy Conwell at the Meadowlands, with Jeanne Pruett at the Grand Ole Opry and with Tommy Overstreet in Europe. He produced albums for Edge City and Linda Nelson and composed music for "Bo and Mo: A Rockabilly Musical," Maryland Public Television and the American Visionary Art Museum. For the past 10 years, he has been writing, recording and touring North America and Europe as half of the Appalachian folk duo Jeni & Billy. He's now at work on his first solo album in 12 years: "Heart & Home." For this show, he will reunite with his former co-writer Geoffrey Himes. www.billykemp.com
Sean K. Preston is an Australian native who moved to Maryland as a teenager, played in local punk bands here, led a folk-rock band in Ireland and a country-blues-punk band back here in Maryland. The last band, the Loaded Pistols, travels from Vermont to Missouri, playing songs from Preston's four albums. He has released three albums and an EP, the songs ranging from delicate laments and lullabies to fiery sermons and confessions. At the Roots Café, fans will get a chance to hear those songs in an unplugged setting. http://www.seankpreston.com
Geoffrey Himes celebrates his birthday on the day of this concert. Though he is best known as a music critic for the Washington Post, Smithsonian Magazine, Baltimore City Paper, Nashville Scene, Jazz Times, No Depression, Paste and many more, Himes is also a longtime singer-songwriter who has co-written songs with Si Kahn, Fred Koller, Walter Egan, Sonia Rutstein, Billy Kemp, Stephen Wade, Jim Patton, Tony Denikos, Alan MacEwan, Ed Pettersen, Andrew Grimm, Bob Kannenberg and others. This month Himes will premiere a new song "Reap the Benefit." http://www.facebook.com/RootsCafeBaltimore
Willem Elsevier is a conservatory trained violinist who has found success in both the classical and jazz worlds. He is best known, however, for his role in Love Riot, the Baltimore rock band that recorded with producer Eric Ambel and toured widely. Elsevier's sophisticated solos helped the band beat out 2,500 other bands from around the globe to win the Yamaha Music Quest competition in Japan in 1994. Elsevier has also recorded with such acts as Billy Kemp and Milkshake. Since 2012, he has been performing and songwriter in a duo with Geoffrey Himes.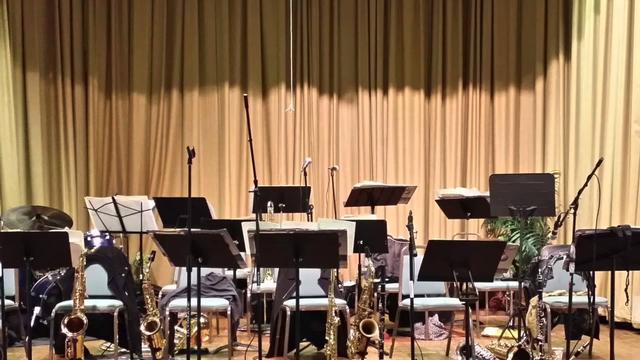 Dunbar Alumni Jazz Band
WHEN: Monday, July 24 - 7 pm
TICKETS: $12 in advance/$15 at door/$10 students/$5 Dunbar students
Get Tickets
Led by jazz educator / trombonist Chales Funn, this jazz ensemble, organized in 1995, performs the music of composers Duke Ellington, William Thomas "Billy" Strayhorn, William "Count" Basie, Maurice White of Earth, Wind & Fire and others.
DISCOUNT PARKING
Park at the Franklin Street Garage (at the corner of Charles & Franklin Streets) for just $3 on evenings and weekends. You must pick up a voucher at An die Musik in order to receive the discounted rate.
Great Jazz Venue 2016 & 2017 -- DownBeat Magazine
Top 10 Best Live Music Venues in Maryland -- BestThingsMD.com
Baltimore's Best Jazz Venue 2005 – Baltimore Magazine
Baltimore's Best Jazz Space 2005, 2007, 2008, 2009, and 2011 – Baltimore City Paper