A Classical, Jazz & World Music Concert Venue
409 N Charles Street
Baltimore MD 21201
www.andiemusiklive.com
Buy tickets online at www.instantseats.com
Or by calling us as (410) 385-2638
Alex Snydman Trio
WHEN: Thursday July 13 - 8 & 9:30 pm
TICKETS: 8 pm show: $15 in advance/$18 at door/$10 full-time student with ID
9:30 pm show: $10
Get Tickets
Alex Snydman - Drums
Keelan Dimick - Piano
Ben Tiberio - Bass
Drummer and composer, Alex Snydman, launched himself onto the modern jazz landscape with his 2013 debut album entitled Fortunate Action. Down Beat Magazine states "Snydman's debut recalls the heartland approach of Brian Blade's Fellowship Band" while All About Jazz declares "Fortunate Action deserves serious attention from critics and fans alike." This sentiment is echoed by EJAZZ NEWS saying "Alex Snydman has offered the listening public a new level of sound, with accolade-blanketed reactions" and Brent Black of Critical Jazz declaring the album as "One of the best for 2013...4.5 Stars...on point in every possible fashion."
Alex has performed at major jazz clubs and festivals on the East and West Coasts as a leader and sideman, sharing the stage with artists such as Grammy winner Charles Neville, Larry Koonse, Grace Kelly, Avery Sharpe, Joe Sanders, Felipe Salles, Miro Sprague, Tatum Greenblatt, Chris Pattishall, Josh Johnson, Danny Janklow and many more.
Snydman's new Trio features the talents of emerging pianist, Keelan Dimick, whom took 1st place at the International Lionel Hampton Jazz Festival at the age of 14. Since then, Keelan pursued an undergraduate degree from The Manhattan School of Music as well as a Full Ride for his Masters at The University of Miami. Dimick has recorded with critically acclaimed artists Kobie Watkins, Amanda Brecker, Walter Smith, and many others.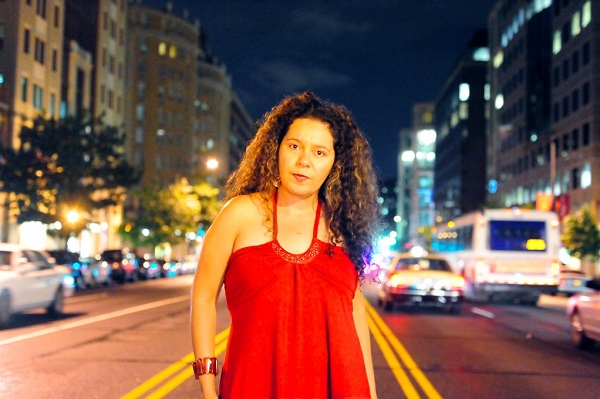 Rose Moraes Quartet: Roots of Brazil
WHEN: Friday, July 14 - 8 & 9:30 pm
TICKETS: $15 in advance/$18 at door/$10 full-time students with ID
Get Tickets
Brazilian vocalist Rose Moraes hails from south of Sao Paulo. She has introduced thousands of music lovers to Brazilian music through performances in Switzerland, Poland, Brazil and the U.S., where she now resides. She has performed at Zinc Bar and The Iridium in New York City, for Artscape and the yearly sold out Carnival concerts at Creative Alliance in Baltimore, and in countless Washington, D.C. venues and festivals such as D.C. Jazz Festival and Adams Morgan Day. With two albums to her credit, she has collaborated on many musical projects with many Brazilian stars.
In this concert, Moraes joins forces with Brazilian bassist Leonardo Lucini and percussionist Lucas Ashby. Didier Prossaird plays piano. The group gives an insider's look on Brazilian jazz from the perspective of samba-canção and bossa nova fusion with Jobim nuances.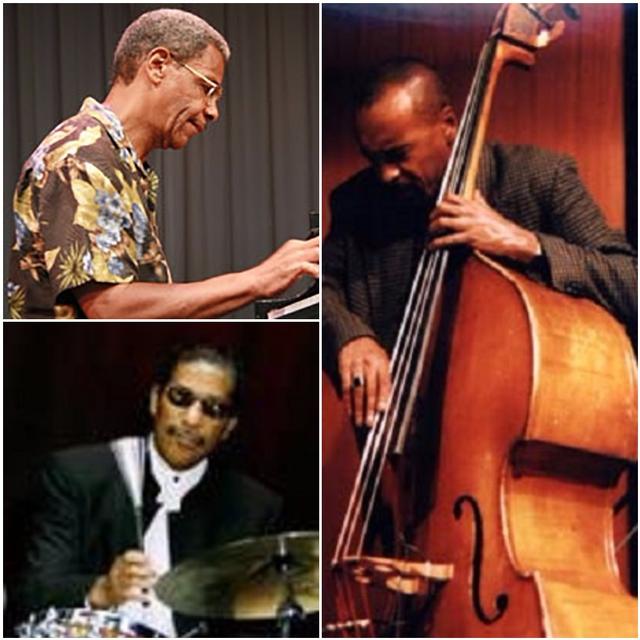 Charles Covington Trio
WHEN: Saturday, July 15 - 8 & 9:30 pm
TICKETS: $17 in advance/$20 at door/$10 full-time students with ID
Get Tickets
Charles Covington, piano
Nassar Abadey, drums
James King, bass

Charles Covington, Jr. is recognized as a virtuoso jazz pianist and jazz organist. A specialist in the styles of early piano greats James "Eubie" Blake, Art Tatum, and Errol Garner, Mr. Covington enjoys a high reputation among performers.
Mr. Covington incorporates the styles of jazz greats in his jazz organ performance. Mr. Tatum, Bud Powell, and John Coltrane were some of the few who each achieved the colossal feat of amending the aesthetic of jazz styles–Mr. Covington achieved the colossal feat of demonstrating that it was possible to master all of these styles and to blend these disparate elements into a coherent, codified style by imposing the mark of his own personality.
Completely self-taught and gifted with perfect pitch, Mr. Covington has performed concerts at the White House, the Kennedy Center, the Peabody Conservatory of Music, the Baltimore Meyerhoff Symphony Hall, the Baltimore Museum of Art, and the Eubie Blake Cultural Center in Baltimore. He has performed internationally in Europe and China and has made numerous TV and radio appearances. In 1984-85 he served as producer and resident artist for "Jazz in the Marketplace" concert series at Baltimore's Inner Harbor where he performed with many well-known guest artists. He also served as artist in residence for the syndicated TV talk show The Tim and Daphne Show and was the house pianist for the TV show BET On Jazz. Mr. Covington also wrote the music for a segment on America's Most Wanted and played the music for The Crash of 29. Mr. Covington was also featured on the cover of Expo magazine as Jazz musician of the year in 1983.
Mr. Covington served on the faculty at Baltimore's Peabody Conservatory of Music from 1979 until his retirement in 1999. Mr. Covington currently serves as a full time professor of music at Howard University in Washington, D.C. His biography was published in the sixth edition of Who's Who Among America's Teachers 2000, the most respected publication in the nation recognizing and honoring the nation's finest teachers.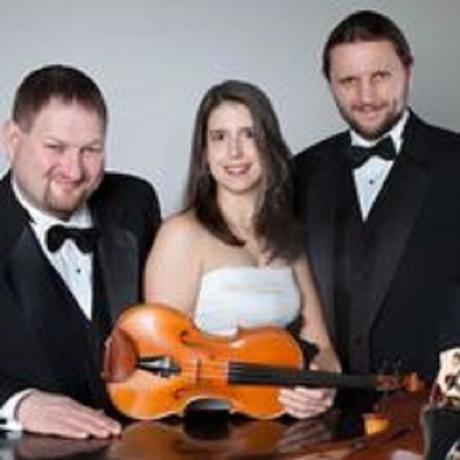 Victoria Piano Trio
WHEN: Sunday July 16 - 2 pm
TICKETS: $10 suggested donation at the door; benefit for An die Musik Live
Get Tickets
Melissa Hullman, violin
Doug Jameson, cello
David Foley, piano
An afternoon of music and stories of adventure, featuring works by Dvorak, Beethoven, Piazzolla, Gershwin, Foss, and Schoenfield.
ECM Artist Jakob Bro Trio: Streams CD Tour
WHEN: Sunday July 16 - 5 pm & 7 pm
TICKETS: $20 in advance/$23 at door/$10 full-time student with ID
Get Tickets
ECM Recording artist Jakob Bro teamed with Thomas Morgan and Joey Baron to promote Jakob's latest recording Streams
Jakob Bro: guitar
Thomas Morgan: double bass
Joey Baron: drums
On his second leader album for ECM – following on from the prizewinning Gefion - Danish guitarist Jakob Bro continues to refine his trio project, with its emphases on melody, sound, space, layered textures and interaction.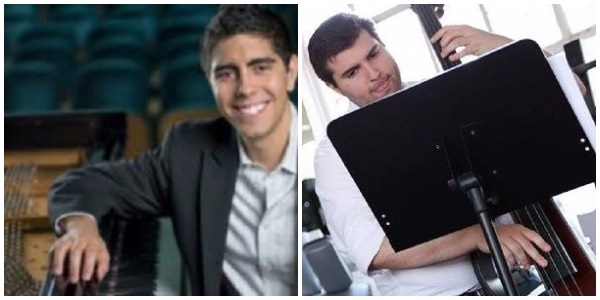 Monday Jazz Jam
hosted by Alex Meadow and Joshua Espinoza
WHEN: Monday July 17 - 7:30 pm
TICKETS: $10/$5 students
Get Tickets
Alex Meadow is an upright and electric bass player from New York City, currently residing in the Baltimore Washington metropolitan area. He has been a busy freelance jazz/funk/fusion instrumentalist for the last decade. Alex has played with and studied under Jeff Reed, Mike Pope, and Gary Grainger. He has had the privilege to play in numerous jazz venues across the DMV area since moving to Baltimore two years ago.
An avid performer and educator, pianist Joshua Espinoza balances his time sharing music on the stage and off. As a performer, Josh has played with many renowned artists including Mike Pope, Todd Marcus, John Pineda, Frank Russo, Ryan McGillicudy, Anders Åstrand, Hamilton Price, Eugene Goss, and Gail Wynters, and on national stages including Piccolo Spoleto and the Jazz Kitchen (Indianapolis).
Click below for your tickets to these exciting upcoming events!
July 2017
11 Peabody Jazz Students, Alumni & Friends
13 Alex Snydman Trio
14 Rose Moraes Quartet: Roots of Brazil
15 Charles Covington Trio
16 Victoria Piano Trio
16 ECM Artist Jakob Bro Trio - "Streams" CD Tour
7 Monday Jazz Jam hosted by Alex Meadow and Joshua Espinoza
19 "No Strings Attached" Peter Mazza/Steve Herberman/Blake Meister Trio
20 NYC Guitarist Justin Lees
21 29 & Georgia
22 New Perspectives Quintet
22 Ann Street Trio
23 Sean K. Preston & Billy Kemp: Roots Cafe Singer-Songwriter Series
24 Dunbar Alumni Jazz Band - Monthly Mondays
26 Oboe/Piano Recital to Benefit Baltimore School for the Arts
27 Dialectical Imagination
28 Lydia "The LovelySinger" Harrell
29 Kristin Callahan Tribute to Julie London
30 Nate Hook/Theljon Allen Band
August 2017 - more coming soon!
1 Dan Blake and The Digging
3 Soul Memories: Karter Jaymes and Friends
4 Sarah Hughes Trio
5 Folkal Point: The Old Part of Town & opening act Isabel Taylor
6 Kristin Rebecca
7 & 21 Monday Jazz Jam hosted by Alex Meadow and Joshua Espinoza
11 B. Woody - Upendo 6tet
12 Joel Futterman / Steve Swell Duo Special Performance
14 Leni Stern African Trio
15 Peabody Jazz Students, Alumni & Friends
17 Reginald Cyntje Group featuring music from "Rise of the Protester"
18 Banda Magda
20 Ultrafaux - original gypsy jazz Inspired by Django Reinhardt
22 Lura Johnson Mozart Piano Sonatas Recital
28 Dunbar Alumni Jazz Band - Monthly Mondays
September 2017
2 Folkal Point: Latitia VanSant
4 & 18 Monday Jazz Jam hosted by Alex Meadow and Joshua Espinoza
9 Classical Guitarist Ana Vidovic - Annual Concert
11 Dunbar Alumni Jazz Band - Monthly Mondays
DISCOUNT PARKING
Park at the Franklin Street Garage (at the corner of Charles & Franklin Streets) for just $3 on evenings and weekends. You must pick up a voucher at An die Musik in order to receive the discounted rate.