A Classical, Jazz & World Music Concert Venue
409 N Charles Street
Baltimore MD 21201
www.andiemusiklive.com
Buy tickets online at www.instantseats.com
Or by calling us as (410) 385-2638

Baltimore Reed Trio
WHEN: Saturday, June 10 - 2 pm
TICKETS: $15 in advance /$18 at door /$10 full-time student with ID
Get Tickets
Katherine Needleman, oboe
Yao Guang Zhai, clarinet
Fei Xie, bassoon
Jacques Ibert - Cinq Pieces en Trio (1935)
Igor Stravinsky - Three Pieces for Clarinet Solo (1919)
Benjamin Britten - Six Metamorphoses after Ovid for Oboe Solo (1951)
Sándor Veress- Sonata for oboe, clarinet and bassoon (1931)
Francisco Mignone - Selections from 16 Valsas para Fagote Solo
Joseph Canteloube - Rustiques (1946)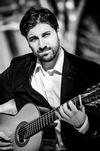 Father's Day with
French Classical Guitarist Julien Xuereb
WHEN: Sunday, June 18 - 3 pm
TICKETS: $12 advance/$15 door/$10 student
Get Tickets
Innovative French guitarist and composer Julien Xuereb strives to make every performance a unique experience. His compositional style ingeniously blends elements of Classical Music, Jazz and Middle Eastern Music. Baltimore Sun music critic, Tim Smith wrote that his work showed, "subtly nuanced compositions."
Performing works by Robert de Visée (c.1655-1733), Napoléon Coste (1805-1883), Erik Satie (1866-1925), and Julien Xuereb (b. 1989)
As a teenager in 2006, Julien began composing his first solo album Introspection; he finished in 2014. After the eight years of composition, the album was released in May 2015. The Atlantic Guitar Quartet premiered one of his latest works, Dialogues for Guitar Quartet, in 2015.
Michael Sheppard & Dariusz Skoraczewski
Piano/Cello Duo
WHEN: Saturday, June 24 - 5 pm
TICKETS: $15 in advance/$18 at door /$10 full-time students with ID
Get Tickets
Don't miss this final installment of season one of new cello/piano duo series, featuring Dariusz Skoraczewski, Principal Cellist of Baltimore Symphony Orchestra, and Michael Sheppard, a Baltimore perennial pianist and a member of the Monument Piano Trio.
Program:
Igor Stravinsky - Suite Italienne for Cello and Piano (1932)
Dmitry Shostakovich - Sonata for Cello and Piano in D Minor, Op. 40
Sergei Prokofiev - Sonata for Cello and Piano in C Major, Op.119