A Classical, Jazz & World Music Concert Venue
409 N Charles Street
Baltimore MD 21201
www.andiemusiklive.com
Buy tickets online at www.instantseats.com
Or by calling us as (410) 385-2638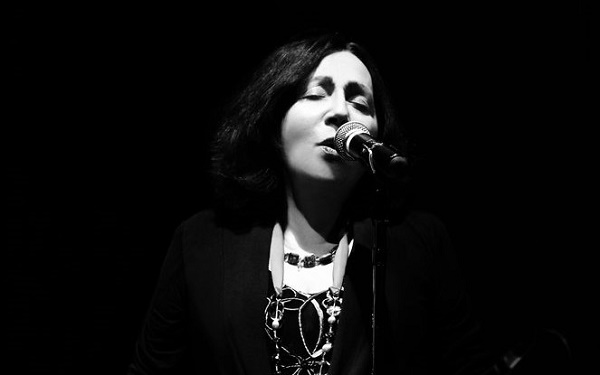 TOP L-R: Marianne Matheny-Katz, vocals; Alan Blackman, Piano; Max Murray, bass
BOTTOM L-R: Matvei Sigalov, guitar; Craig Alston, saxophones; Frank Russo, drums
The Ella Songbook at An die Musik
WHEN: Sunday, May 14 - 5 pm
TICKETS: $17 advance / $20 door / $10 students
In honor of the 100th anniversary of Ella Fitzgerald's birth, Marianne Matheny-Katz presents a special Mother's Day performance drawing on Ella's songbook material. At the height of her career, Ella recorded over a dozen songbook discs, paying tribute to Cole Porter, Duke Ellington, Rogers & Hart, The Gershwins, Harold Arlen, Jerome Kern and others. These recording contain some of the most beloved and recognizable material of Ella's career. Sprinkled in will be a few Ella/Joe Pass tunes.
Marianne Matheny-Katz
One of Baltimore's most accomplished singers, Matheny-Katz is a two-time runner up in the Billie Holiday Competition, has performed at the Mid-Atlantic Jazz Festival, New Jersey Jazz Festival, Patterson Park concerts and Artscape as well as popular venues such as, the Meyerhoff, Blues Alley, the Eubie Blake Center, Germano's, The Carlyle Club, the Lilypad and Acton Jazz Clubs (in Massachusetts) and many other venues. She has shared the stage with luminaries such as Warren Wolf, Cyrus Chestnut, Tim Warfield, Terrell Stafford, George Colligan, JD Walter, Craig Alston and Todd Marcus. Her 2014 CD, Somewhere in Paradise received significant national airplay and critical praise. Marianne is also a jazz advocate, producer and presenter.
One of the founding board members of the Baltimore Jazz Alliance, she helped initiate the successful and long running Patterson Park Summer music series. She is the co-founder (with her husband Howard Katz) and President of the 501c3 Jazzway 6004 jazz series (www.jazzway6004.org), named by DownBeat as one of the finest house concert venues in the country, and in June 2017 celebrates 10 years of presenting Jazz in a beautiful and intimate setting.
Alan Blackman
Baltimore-based pianist and award-winning composer, Alanand his various groups have performed at Blues Alley, the Kennedy Center, and many festivals and venues from San Francisco to New York. Recent performances have been with Donny McCaslin, Gilad Hekselman, Vardan Ovsepian, Ferenc Nemeth, Mike Pope, Tom Guarna, Joe Locke, Warren Wolf, Tim Green, Michael Formanek among others. He was awarded the eastern regional songwriting award by the Gospel Music Association and was selected to be part of the Betty Carter Jazz Ahead program at the Kennedy Center.
Additionally, he has received grants from Chamber Music America New Jazz Works, Maryland State Arts Council in jazz composition and performance for the years 2007, 2009, 2010, 2011, 2013, 2014, 2015 and Baltimore Creative Fund grants for 2009 and 2010. Original arrangements and performances of his music have been featured on NBC's Parenthood, NPR's Talk of the Nation, and Netflix's Luke Cage as well as Stephen King's film, 1408.
Alan released his first CD of original music, Shadowdance, in January 2000 and is currently working on his first jazz composition book tentatively entitled, Changing Standards, which will be accompanied by an audio CD of his original arrangements. His next CD, Turning Point featuring Donny McCaslin was released in 2010 on Top Floor Records. A recording of his 2 Piano Improvised Series, Alone Together with various other pianists was released in 2011. The Coastal Suite was made into a CD with enhanced video content in 2015. His forthcoming 2017 release on Summit Records features guitarist Gilad Hekselman.