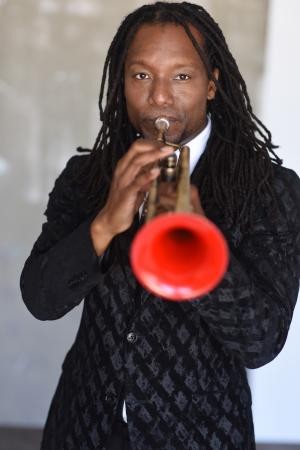 Alumnus Dontae Winslow and his group WinslowDynasty will be featured in the Jazz at the Johns Hopkins Club series, under the artistic direction of Gary Thomas, on Saturday, February 25, at 8:30 pm and 10:00 pm. Their new album, titled Enter The Dynasty, is an eclectic mix of straight-ahead jazz, blues, funk, and hip-hop soul. The artists - Mr. Winslow, trumpet/vocals; Mashica Winslow, vocals; Antonio Hart, alto sax; Sam Barsh, piano/keyboard; Tom Baldwin, bass; and CV Dashiell, drums - will perform two sets
WHERE: Johns Hopkins Club on the Homewood campus, 3400 North Charles Street.
TICKETS: available online.
---
Thursday, February 23, 7:00 pm
Grace Srinivasan, soprano, and Paula Maust, harpsichord, will perform Thomas-Louis Bourgeois' Hippomène and Alessandro Scarlatti's Euridice dall'inferno, and Sam Bessen, horn, and Min Joo Yi, keyboard, will perform Dana Wilson's Musings for Horn and Piano in the free Peabody on the Court Series concert at the Walters Art Gallery.
---
Sunday, February 26, 3:00 pm
Peabody Preparatory faculty members will be featured in recital in Leith Symington Griswold Hall. JeeYoung Rachel Choe, flute, and Hyun-Sook Park, piano, will perform Charles-Marie Widor's Suite for flute and piano, Op. 34. Gina Eichmann, flute; Heidi Dewally, oboe; Donna Noyes, clarinet; Becky Ballenger, horn; Monica Schwartz, bassoon; and Kristina Tanner, piano, will perform Francis Poulenc's Sextet for wind quintet and piano. Lauren Rausch, violin, and Ta-Wei Tsai, piano, will perform Johannes Brahms' Violin Sonata No. 3 in D minor, Op. 108. No tickets are required for this free performance.
---
CONSERVATORY STUDENT RECITALS
Conservatory student recitals are free and open to the public. For a list of recitals including student name, degree program, instrument/voice, date, time, and hall, visit peabody.jhu.edu/recitals.
Tuesday, February 28, 8:00 pm
Peabody Symphony Orchestra Features Student Competition Winners
---
Friday, March 3, 7:30 pm
---
Friday, March 3, 7:30 pm
Peabody Jazz Ensemble Celebrates Thelonious Monk
---
Sunday, March 5, 2:30 pm
Fret Fest Guitar Ensemble Concert
---
Sunday, March 5, 4:00 pm
G.E. Smith and Perlak/Tronzo Guitar Duo to Perform, Peabody
---
Thursday, March 9, Friday, March 10, Saturday, March 11, 7:30 pm; Sunday, March 12, 4:00 pm (note time change)
Wolfgang Amadeus Mozart: Le nozze di Figaro (The Marriage of Figaro)
---
March 12, 7:30 pm
---
Give to Peabody
Your generosity enables Peabody to provide the one-to-one, artist-to-student teaching that is critical to musical development. Help secure our tradition of inspiration for another 150 years!