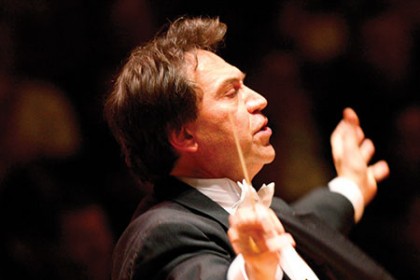 Edward Polochick will guest conduct the Preparatory Performance Academy Festival Orchestra featuring students from the Performance Academy for Strings, directed by Christian Tremblay, and the Peabody Pre-Conservatory Violin Program, directed by Rebecca Henry, on Saturday, January 21, at 2:00 pm. The free concert includes Johann Sebastian Bach's Brandenburg Concerto in G major, No. 3, BWV 1048; Edward Elgar's Serenade for Strings in E minor, Op. 20; David Diamond's Rounds for String Orchestra; and Robert Fuchs' Serenade for String Orchestra No. 3, Op. 21, and will take place at the Walters Art Museum.
---
EVENTS THIS WEEK
Thursday, January 19, 12:00 pm
This week's free Thursday Noon recital in Leith Symington Griswold Hall will be presented by the Organ Department. Mi Zhou, organ, will perform Johann Sebastian Bach's Prelude and Fugue in G major, BWV 541. Kyongmin Kim, organ, will perform the first movement of Alexandre Guilmant's Sonata (Symphony) for organ No. 1 in D minor, Op. 42. Phoon Yu, organ, will perform Bach's Prelude and Fugue in E minor, BWV 548. Dalaie Choi, organ, will perform William Bolcom's Free Fantasia on 'O Zion Haste' and 'How Firm a Foundation.'
---
Friday, January 20, 12:00 pm
Quartet Esprit—Ha-Young Kim and Ryo Usami, violins; Ankit Anil, viola; and Andrew Shiau, cello—will present a recital of Wolfgang Amadeus Mozart's String Quartet No. 17 in B-flat major, K. 458, "The Hunt"; Franz Schubert's String Quartet No. 12 in C minor, D. 703, "Quartett-Satz"; and Felix Mendelssohn's String Quartet No. 3 in D major, Op. 44-1 in the free Peabody on the Court Series concert at the Walters Art Gallery.
---
Saturday, January 21, 1:00 pm
The Peabody Piano Academy Recital, co-directed by Chad R. Bowles and Hyun-Sook Park, will present pianists Maddie Cheong, Maya Cooper, Rosemary Leboeuf, Alan Mao, Philip Yoon, and Victoria Zang performing Ludwig van Beethoven's "Tempest" and "Appassionata" sonatas, as well as works by Bach, Chopin, Haydn, and Prokofiev. The concert, in Hilda and Douglas Goodwin Recital Hall, will be free.
---
CONSERVATORY STUDENT RECITALS
Conservatory student recitals are free and open to the public. For a list of recitals including student name, degree program, instrument/voice, date, time, and hall, visit peabody.jhu.edu/recitals.
---
Give to Peabody
Your generosity enables Peabody to provide the one-to-one, artist-to-student teaching that is critical to musical development. Help secure our tradition of inspiration for another 150 years!
---