A Classical, Jazz & World Music Concert Venue
409 N Charles Street
Baltimore MD 21201
www.andiemusiklive.com
Buy tickets online at www.instantseats.com
Or by calling us as (410) 385-2638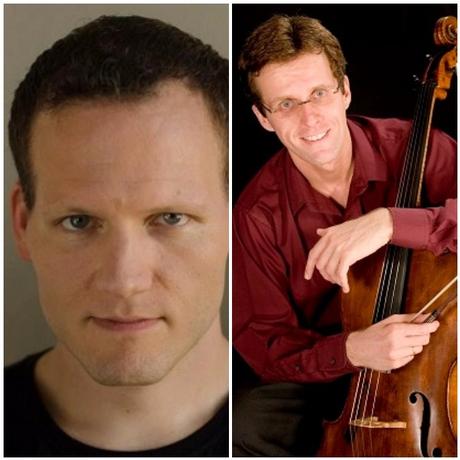 NEW DATE: SAT, DEC 31 AT 2 PM
Kick off the new year with the kickoff of a new cello/piano duo series by BSO Principal Cellist Dariusz Skoraczewski and favorite Baltimore pianist Michael Sheppard—both members of the famed Monument Piano Trio.
Program:
Fryderyk Chopin - Introduction and Polonaise Brillante Op. 3 for Cello and Piano
Antonín Dvoák- Silent Woods Op. 68 for Cello and Piano
Ernest Bloch - "From Jewish Life" for Cello and Piano
Manuel de Falla - Suite Populaire Espagnole for Cello and Piano
Richard Strauss - Sonata for Cello and Piano Op. 6 in F Major
TICKETS: $15 in advance/$18 at door /$10 full-time students with ID
The next installment of their series will be on Sat., April 8, 2017 at 2 p.m.
---
Baltimore Symphony Orchestra's Principal Cellist Dariusz Skoraczewski has delighted audiences of many concert halls in America and Europe with his great artistic and technical command of the instrument. As a soloist he performed with numerous orchestras in the US including the National Philharmonic, Alexandria Symphony, Arlington Philharmonic, Lancaster Symphony and the Baltimore Symphony Orchestra.
In 2013 Dariusz was awarded the prestigious Baker Artist Award, the highest recognition for artists in Maryland.
As a chamber musician, Dariusz appeared in many chamber music concert series including the Candlelight Series, Music at the Great Hall in Baltimore and the Barge Music Festival in New York City. In November of 2005 he gave his Carnegie Hall debut, which was sponsored by the La Gesse Foundation. The cellist is also a member of a critically acclaimed ensemble – the Monument Piano Trio.
Dariusz is a laureate of various international competitions such as the Tchaikovsky Competition in Moscow, the Leonard Rose Competition in Washington D.C. and the Rostropovich Competition in Paris.
Dariusz began his musical education at the age of six and spent his school years in Warsaw, Poland where his teachers were Professor Z. Liebig and Professor A. Zielinski. He completed his higher education as a scholarship recipient at the Peabody Conservatory of Music in Baltimore and perfected his art under the supervision of world-renowned cellist Stephen Kates.
The soloist's repertoire is extremely diverse and includes compositions from early Baroque to the present. His debut CD "Cello Populus" is a collection of solo pieces from the 20th and 21st centuries and includes works of Hindemith, Ligeti, Crumb, Penderecki and others. Dariusz's second album "Cello Phantasia" features music by Schumann, Franck and Rachmaninov.
---
Michael Sheppard today stands at a crossroads, spending large amounts of time writing as well as performing and teaching. He has worked closely with fellow composers John Corigliano, Christopher Theofanidis, Michael Hersch, Robert Sirota and with the late Nicholas Maw, demonstrating a deep love of new music; his eclectic tastes also led him recently to musical-direct performances of Jason Robert Brown's Broadway show "The Last Five Years". Michael Sheppard is a native of Philadelphia and resides in Baltimore, where he works at both the Peabody Conservatory and the Baltimore School for the Arts, sharing his love and understanding of music and the artistic process with future generation.