A Classical, Jazz & World Music Concert Venue
409 N Charles Street
Baltimore MD 21201
www.andiemusiklive.com
Buy tickets online at www.instantseats.com
Or by calling us as (410) 385-2638

Brandon Woody Quintet
Thursday, June 9 - 8 & 9:30 pm
Get Tickets
Brandon Woody - Trumpet
Nathan Reising- Alto Sax
Ayinde Williams- Piano
Tyrone Allen II - Bass
Kweku Sumbry- Drums
Featuring Special Guests!
Brandon was won the Concerto Competition at Peabody, and is in several orchestras, chamber, wind ensembles, which make him a better player all around. He has performed in some of Americas best venues, including Bohemian Caverns, and Jazz at Lincoln Center multiple times. Woody was recently selected by The Baltimore Sun as Baltimore's Rising Artist.
" The next Diz ." —The Examner.
TICKETS: $15 in advance/$18 at door/$10 full-time students with ID
____________________________________________________________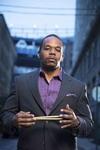 Warren Wolf / Joe Locke Duo
Friday, June 10 - 8 & 9 :30 pm
Get Tickets

Warren Wolf is a multi-instrumentalist from Baltimore. Warren has landed the piano duties performing in the Rachael Price Group. Recording and touring with Rachael, Warren has toured the entire US. He is the drummer of choice for Alto Saxophonist Tia Fuller, who tours with internationally renowned pop star Beyonce Knowles. He is also a member of the Donal Fox Group.
Warren has several recordings as a leader. He recently signed to the Mack Ave recording label. Another record is forthcoming.
"Joe Locke has secured a spot among the world's top jazz vibists – and one of the most popular. Without sacrificing his jazz integrity or intent, Locke still manages to engage even casual listeners with a mixture of edgy attitude and artistic purity." — Neil Tesser, Chicago Examiner
TICKETS: $17 advance/$20 door/$10 full-time students with ID
____________________________________________________________V

Mark Brine, Americana Music
Saturday, June 11 - 8 pm
Get Tickets
American Roots Music * Traditional Country * Blues * Folk * Americana Music
"Mark Brine is an interesting artist. I would describe his music as very traditional in a Jimmie Rodgers style, in fact if Jimmie Rodgers and Hank Williams were cloned into one artist I would have to say that Brine is it! His music is clever and really hits that old timey Country bones a lot of us have that tend to stay hidden until we get a treat like this CD." —Excerpt Americana Gazzette Review (Feb./March 2013 issue) of Mark Brine and his Folkabilly Bluezgrass CD.
TICKETS: $15 in advance/$18 at door/$10 full-time students with ID
____________________________________________________________

Marc Irwin
Sunday, June 12 - 5 pm
Get Tickets
Pianist, composer, arranger and recording artist, Dr. Marc Irwin (DMA, Peabody Conservatory) uses his diverse talents within the fields of classical, jazz, theatre, and world music. Marc Irwin presently works in NYC, Baltimore, and Washington, D.C. He is a pianist and musical director with the Capitol Steps, performing political satire throughout the United States and Canada. Marc has performed as assistant musical director and pianist in many productions at The Kennedy Center.
Marc has performed at An Die Musik for many years as soloist, accompanist, and conductor. He is very pleased to be returning tonight. Marc will be joined by his nephew Ryan Lee, an up-and-coming jazz guitarist and bassist based in Richmond.
TICKETS: $15 in advance/$18 at door/$10 full-time students with ID
____________________________________________________________

Dunbar Alumni Jazz Band - Monthly Mondays
Monday, June 13 - 7 pm
Get Tickets
Led by jazz educator / trombonist Chales Funn, this jazz ensemble, organized in 1995, performs the music of composers Duke Ellington, William Thomas "Billy" Strayhorn, William "Count" Basie, Maurice White of Earth, Wind & Fire and others.
TICKETS: $12 in advance/$15 at door/$10 students/$5 Dunbar students
Click below for your tickets to these June events:
9 Brandon Woody Quintet
10 Warren Wolf / Joe Locke Duo
11 Mark Brine, Americana Music
12 Marc Irwin
13 Dunbar Alumni Jazz Band - Monthly Mondays
16 Annapolis Jazztet Contemporary Classic Jazz
17 Marcin Wasilewski Trio
18 The John Lamkin "Favorites" Jazz Quintet featuring Ralph Peterson
19 Michael Sheppard plays Brahms and Chopin
20 Peabody Jazz Students
22 Floyds Row
24 Paola Quagliata & Jazzn' Around Baroque
25 AmiciMusic presents Dynamic Duos: Vagabond Violin
25 Scott DuBois Quartet
26 Jonathan Epley Guitar Trio
30 Hot Club of Baltimore presents "Django in Rome"