A Classical, Jazz & World Music Concert Venue
409 N Charles Street
Baltimore MD 21201
www.andiemusiklive.com
Buy tickets online at www.instantseats.com
Or by calling us as (410) 385-2638
GUY MINTUS TRIO
with special guest, Trumpeter Nico Sarbanes
WHEN: Wednesday, March 30, 2016 – 8 & 9:30 pm
The trio members are three of New York's most sought-after young musicians having each performed individually with jazz legends.
Israeli pianist and composer Guy Mintus brings his trio for their Baltimore debut on a program featuring original materials, re-imaginations of standards and traditional melodies, as well as a collaboration with one of Baltimore's most notable up and coming musicians, trumpeter Nico Sarbanes.
TICKETS: $13 in advance/$16 at door/$10 full-time students with ID
---
Jeff Cosgrove/Noah Preminger Quartet
WHEN: Thursday, March 31, 2016 – 8 pm
Noah Preminger - Saxophone
Jeff Cosgrove - Drums
Harry Appelman - Piano
Mark Lysher – Bass
At just 29, Noah Preminger has recorded numerous critically acclaimed albums and is steadily listed as one of the best tenor saxophonists by critics and readers on the annual Downbeat Poll. Two new recordings are expected by early 2016, including an all-ballads date on the French vinyl label, Newvelle Records, and a recording inspired by Delta Mississippi Blues musicians.
While Jeff Cosgrove has ample experience playing beat-driven music with strict time, he is drawn toward abstraction in his own work, summoning colors and textures on the drum kit, listening deeply to his colleagues as the music flows and evolves.
TICKETS: $13 in advance/$16 at door/$10 full-time students with ID
---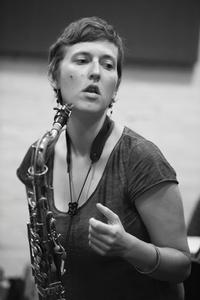 Anna Webber's SIMPLE Trio
WHEN: Friday, April 1, 2016 – 8 & 9:30 pm
Anna Webber - flute, sax
Matt Mitchell - piano
John Hollenbeck - drums
Composer and improviser Anna Webber is an integral part of a new wave of the Brooklyn avant-garde jazz scene. A saxophonist and flutist who persistently avoids the expected, Webber's most recent album, SIMPLE (Skirl Records, 2014), has garnered much critical acclaim.
TICKETS: $12 in advance/$15 at door/$10 full-time students with ID
---
PIANIST THOMAS PANDOLFI
Mozart, Spanish Romance, and the Movies
WHEN: Saturday, April 2, 2016 – 2 pm
An exciting American virtuoso pianist who, with each passing season, is becoming more and more sought after by audiences worldwide, and showered with superlatives by critics for his passionate artistry and amazing technique.
Among his engagements during the 2015-16 season, will be as guest soloist with The National Philharmonic, The Ohio Valley Symphony, The Maryland Symphony, The Cheyenne Symphony, the North Charleston Pops, The Alexandria Symphony, The Wilson Symphony and The Amadeus Orchestra. He will also appear in a number of duo recitals with violinist, Emil Altschuler.
Mr. Pandolfi will be available for signing CDs following the concert.
TICKETS: $12 in advance/$15 at door/$10 full-time students with ID