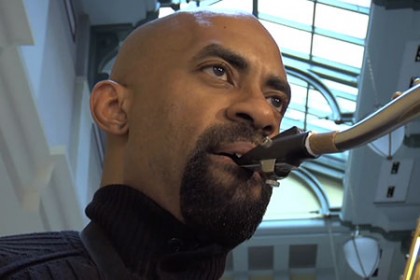 On Wednesday, October 15, the new Centre Street Performance Studio at 5 East Centre Street will open with a Jazz Combo Night, the first in a series of four. The Hook Trio, directed by Gary Thomas (pictured), and the Jazz Repertory Ensemble, directed by Michael Formanek, will perform. The Hook Trio is comprised of Nathan Hook, saxophone; Alex Fournier, bass; and Byung Kang, drums. Sterlin Brown, Jarrett Gilgore, saxophones; Eric Engler, trumpet; Nicholas Saia, guitar; Christopher Frick, piano; Alex Fournier, Samuel Worthington, bass; and Gabriel Patkaitis, Jonah Scott, drums, make up the Jazz Repertory Ensemble. Tickets for the performance at 7:30 PM are $5. For tickets, please call the Peabody Box Office at 410-234-4800.
---
Wednesday, October 15, 4:00 PM
The fall Doctor of Musical Arts Musicology Colloquium continues with a talk by Inna Naroditskaya of Northwestern University, "Tchaikovsky's Queen of Spades: Gambling on Recognition." The event, which is free and open to the public, will be held in Room 308C (Conservatory Building).
---
FREE RECITALS
Thursday Noon
This week's free Thursday Noon recital in Miriam A. Friedberg Concert Hall will be presented by the Strings Department. Jeongmin Lee, violin, and Michael Sheppard, piano, will perform Ernest Chausson's Poème, Op. 25; Dae Sul Peter Kwon, viola, and Hui-Chuan Chen, piano, will perform the first movement from William Walton's Viola Concerto; and Andrew Kwon, violin, and Melody Quah, piano, will perform the first movement from Pyotr Ilyich Tchaikovsky's Violin concerto in D major, Op. 35.
Conservatory student recitals
Conservatory student recitals are free and open to the public. For a list of recitals including student name, degree program, instrument/voice, date, time, and hall, visit peabody.jhu.edu/recitals.
---
Tuesday, October 21, at 2:00 pm
"What's Next for Classical Music?" Symposium
---
Friday, October 24, at 7:30 PM
Peabody Opera Workshop
Saturday, October 25, at 8:00 PM
Peabody Symphony Orchestra
---

Give to Peabody

Your generosity enables Peabody to provide the one-to-one, artist-to-student teaching that is critical to musical development. Help secure our tradition of inspiration for another 150 years!