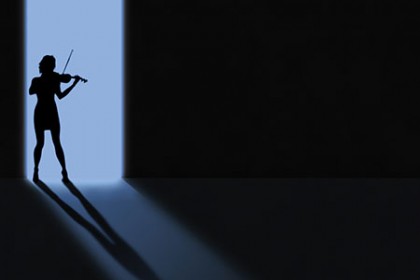 Tomorrow, Tuesday, October 21, at 2:00 pm, "What's Next for Classical Music?," a free Peabody symposium in Miriam A. Friedberg Concert Hall examining the changing industry and how best to prepare student musicians for it, will bring together national leaders in the music world to discuss the trends shaping the industry and the important role conservatories play in the future of classical music. Johns Hopkins University President Ronald J. Daniels and Provost Robert C. Lieberman will open the symposium, which will be moderated by Peabody's Dean Fred Bronstein. Panelists will include Jesse Rosen, president and CEO of the League of American Orchestras; Ben Cameron, director for arts funding at the Doris Duke Charitable Foundation; Marin Alsop, conductor and music director of the Baltimore Symphony; Thomas Dolby, Homewood Professor of the Arts at Hopkins; and Marina Piccinini, Peabody faculty artist and internationally renowned flutist.
Wednesday, October 22, 4:00 pm
The fall Doctor of Musical Arts Musicology Colloquium continues with a talk by Eugenio Refini of Johns Hopkins University, "Translating Poetry into Music: Benjamin Britten's Seven Sonnets of Michelangelo." The event, which is free and open to the public, will be held in Room 308C (Conservatory Building).
---
Thursday, October 23, 7:00 pm
A free master class with cellist Zuill Bailey will be held in Cohen-Davison Family Theatre.
---
Friday, October 24, 11:00 am
A free early music master class with Jaap ter Linden, viola da gamba and baroque cello, will be held in Leakin Hall, Room 315.
---
Friday, October 24, 7:30 pm
The Peabody Opera Workshop will present a program titled "Comedy Two Night," stage directed by Roger Brunyate and music directed by JoAnn Kulesza. Joseph Haydn's Lo Speziale (The Apothecary) and "Lilith" from "Hotel Eden," with music by Henry Mollicone and libretto by Judith Fein will be performed.
Ticket info
---
Saturday, October 25, 8:00 pm
Peabody alumnus Zuill Bailey, widely considered one of the premier cellists in the world, will be the soloist with the Peabody Symphony Orchestra on the Dvořák Cello Concerto in B minor. The Society of Peabody Alumni will present Bailey with the Johns Hopkins University Distinguished Alumnus Award at this concert. Also on the program is the winning work of the Macht Orchestral Composition Competition, And night by the streams of the city by Doctor of Musical Arts candidate John Belkot, and Paul Hindemith's Mathis der Maler. The orchestra will be led by Hajime Teri Murai, Ruth Blaustein Rosenberg Director of Orchestral Activities. Tickets for the performances, in Miriam A. Friedberg Concert Hall, are $15 for adults, $10 for seniors, and $5 for students with ID.
---
Saturday, October 25, 8:30 pm and 10:00 pm
Drummer Ralph Peterson will lead his Fo'tet Augmented with clarinetist Felix Peikli, vibraphonist Joe Doubleday, and bassist Alex Claffy, in the Jazz at the Johns Hopkins Club series. The group will play two sets, at 8:30 and 10:00 pm, at the Johns Hopkins Club on the Homewood campus, 3400 North Charles Street. Tickets are available by phone by calling 410-235-3435.
---
Sunday, October 26, 2:00 pm
The Preparatory Young People's String Program, with the students dressed in costume, will present its annual free Halloween Concert in Miriam A. Friedberg Concert Hall directed by Janet Melnicoff-Brown and Andréa Picard Boecker.
---
Sunday, October 26, 7:15 pm
Faculty artist and trumpeter Joe Burgstaller, formerly of Canadian Brass, will present a performance class called "Change Your Mind, Change Your Playing," in Leakin Hall, Room 16.
---
FREE RECITALS
Thursday Noon
This week's free Thursday Noon recital in Leith Symington Griswold Hall, will be presented by the Guitar Department. Isaac Greene will perform J. S. Bach's Prelude and Allegro in D major, BWV 998; Eric Meier will perform Reginald S. Brindle's El Polifemo de Oro; Young Ik Jang will perform Manuel M. Ponce's Sonata No. 3; Thomas Clippinger will perform Richard R. Bennett's Impromptus; and Young Jun Lim will perform Johann K. Mertz's Hungarian Fantasy.
---
Composition Department
On Wednesday, October 22, at 7:30 pm, the Composition Department will present a free recital of original works in Leith Symington Griswold Hall.
---
Conservatory student recitals
Conservatory student recitals are free and open to the public. For a list of recitals including student name, degree program, instrument/voice, date, time, and hall, visit peabody.jhu.edu/recitals.
---
Tuesday, October 28 at 8:00 pm
Sylvia Adalman Chamber Series: The Peabody Trio
Ticket info
---
Wednesday, October 29 at 7:30 pm
Peabody Singers
Ticket info
---
Friday, October 31 at 8:00 pm
Peabody Concert Orchestra
Ticket info
---
Give to Peabody
Your generosity enables Peabody to provide the one-to-one, artist-to-student teaching that is critical to musical development. Help secure our tradition of inspiration for another 150 years!