KINGS OF CROWNSVILLE
WHEN: Saturday, May 31; Performance starts at 7:30 PM; Doors open at 6 PM for pre-show dining.
WHERE: Cabaret at Germano's, 300 S. High Street, Baltimore, Maryland 21202
ADMISSION: $15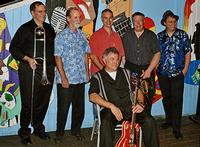 Annapolis-based act Kings of Crownsville are a roots Rock band with a New Orleans flavor. The brainchild of New Orleans-raised guitarist/singer/songwriter Steve Johnson, the Kings play a rollicking, entertaining set that stirs Americana, Blues, and Jazz into the mix.
Their signature horn section transports listeners to the streets of the Big Easy, while they also add precise three- and four-part harmonies to their musical gumbo. Think Louis Armstrong meets Steely Dan.
Finalists in the 2012 Baltimore Blues Society competition, the Kings perform regularly throughout the Baltimore/Washington D.C. area.