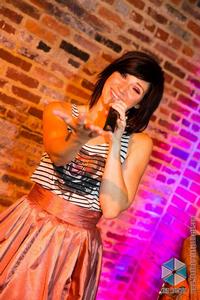 KARLA CHISHOLM, MICHAEL RAITZYK, ELI STAPLES & JEFF REED: SONGS ON A SUNDAY
WHEN: Friday, May 30; Performance starts at 7:30 PM; Doors open at 6 PM for pre-show dining.
WHERE: Cabaret at Germano's, 300 S. High Street, Baltimore,
ADMISSION: $20

Germano's is delighted to welcome back indie jazz vocalist Karla Chisholm and company for what promises to be a powerful night of music as they debut their new CD.
From Karla Chisholm's Website:
In my short tenure making music in the Washington DC area, I have had the great pleasure of collaborating with some of the most extraordinary musicians and human beings in the world. To my great joy, I shared the stage with three of my favorites on a special afternoon in November of 2013. This album is a representation of the songs in our hearts that day. No fiddling, fussing or fixing. Just us, you and ten Songs on a Sunday.
My sincerest thanks to guitarist Michael Raitzyk, pianist Eli Staples and bassist Jeff Reed for your generous performances. It is so thrilling to be a part of your improvisational conversations, and I am forever honored by your constant encouragement