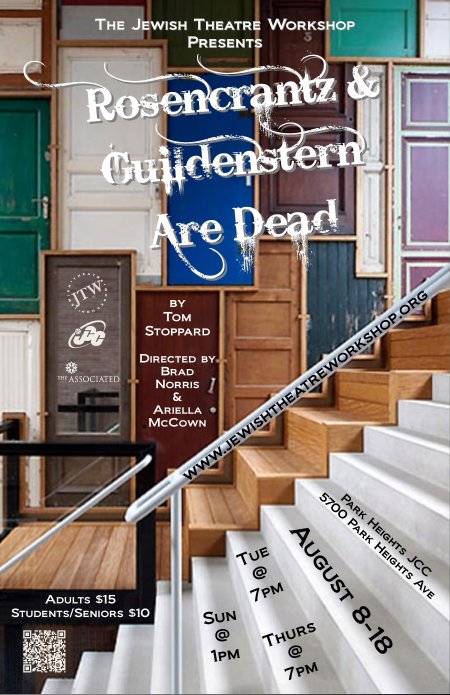 Rosencrantz & Guildenstern Are Dead
By Tom Stoppard
Directed by Brad Norris & Ariella McCown
WHEN: August 8-18; Sundays 1 PM, Tuesday and Thursdays 7 PM
WHERE: Straus Auditorium, Weinberg Park Heights JCC, 5700 Park Heights Ave, Baltimore
TICKETS: Adults $15, students/seniors $10
Purchase your tickets to Rosencrantz & Guildentern Are Dead online before August 4th, and receive 20% off the regular ticket price!
Visit www.jewishtheatreworkshop.org to buy your tickets now to this hilarious show!
See Hamlet, Save Money, See More Hamlet...
Our good friends at The Baltimore Shakespeare Factory are currently running a special Shakespearian Co-promotion with us.
Here's how it works:
First, go see The Baltimore Shakespeare Factory's production of Hamlet July 13-August 4th with a discounted ticket coupon from JTW.
Then save your Hamlet ticket stub or program and bring it to the box office when you come to see JTW's Rosencrantz & Guildenstern Are Dead August 8 - 18 to get another discount on our show!
All The details and coupons can be found on the JTW's blog: Uphill Both Ways: Musings from the Jewish Theatre Workshop. See Hamlet in two shows, and save!