This production opened last weekend, but we didn't learn about it until February 16. Neil Simon is enjoying a renaissance in Baltimore. This play blends pathos and humor beautifully.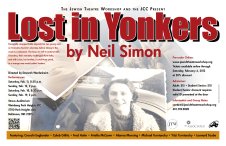 LOST IN YONKERS
By Neil Simon
WHEN: Saturday, February 18, @ 8:30 PM & Sunday, February 19, @ 2 PM
WHERE: Straus Auditorium, Weinberg Park Heights JCC, 5700 Park Heights Ave., Baltimore
TICKETS: Tickets will be available at the door for purchase: $10 for students and seniors, $15 for adults.
PURCHASE TICKETS FOR "LOST IN YONKERS" ONLINE
For more information and group rates, contact The Jewish Theatre Workshop contact@jewishtheatreworkshop.org.
Neil Simon's comedy Lost In Yonkers is a coming-of-age story that focuses on brothers Jay and Arty who are left in the care of their intimidating, immigrant Grandma Kurnitz and their sweet but mentally slow Aunt Bella in Yonkers, New York while their father Eddie works as a traveling salesman to pay off debts he incurred following the death of his wife. This mad-cap comedy with a heart also includes Uncle Louie, a small-time crook on the run and their Aunt Gert who speaks the second half of her sentences while breathing in. The family, learns what it means to be a family through hardship and care.