CASTING NOTICE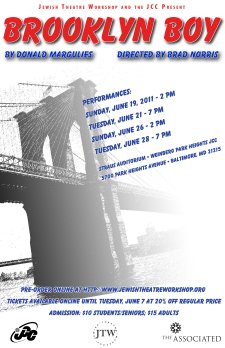 The Jewish Theatre Workshop Presents
BROOKLYN BOY
By Donald Margulies
Directed by Brad Norris
AUDITIONS
WHEN: Sunday, April 3, Straus Auditorium, 1 – 4 PM; Monday, April 4, Community Meeting Room, 6–10 PM; Wednesday, April 6, JEA Room, Callbacks as necessary 6–10 PM
Other times may be scheduled with the Director (contact info below)
WHERE: Weinberg Park Heights JCC, 5700 Park Heights Ave, Baltimore
What to prepare:
A short, memorized monologue, of any type, between one and three minutes long is preferred, but not necessary. There will also be cold readings from the script. Resumes and/or headshots are accepted as well, but also not necessary.
Rehearsals:
Rehearsal schedule to be determined.
Please bring any known conflicts between April and Mid-June with you.
No rehearsals on Fridays or Saturdays.
Four Performances:Sunday, June 19, 2011 - 2 PM
Tuesday, June 21, 2011 - 7 PM
Sunday, June 26, 2011 - 2 PM
Tuesday, June 28, 2011 - 7 PM
Inquiries: Brad Norris, Director: BN3381@gmail.com
All roles are available at the open audition. They include:
Eric Weiss: Male, mid-forties, a novelist
Manny Weiss: Male, seventy, Eric's father
Ira Zimmer: Male, mid-forties, Eric's childhood friend
Nina: Female, forties, Eric's wife
Alison: Female, twenties, a college student
Melanie Fine: Female, late thirties, a film producer
Tyler Shaw: Male, early twenties, a movie star